We took the opportunity to call in and have a look at Spring Bluff Railway Station on the way back to Esk. Wow, we were amazed at this beautiful little railway station and gardens.
The Station is a heritage listed site located on the main railway line between Ipswich and Toowoomba. It has beautiful landscaped gardens This spot is also well known to local residents and has many stories to tell and 150 years of railway history. During WW2 soldiers from the nearby Cabarlah Barracks marched to this place before heading to Brisbane and off to war.
Spring Bluff Station was built in the 1860s to allow trains a place to stop during the steep climb from Brisbane to nearby Toowoomba. In 1890, it was named Spring Bluff after the spring water and the sandstone bluff in the area.
It is now most famous for its gardens which come to life in spring and summer. Definitely worth a visit then or at any time. In 1914 Queensland Railways launched a garden competition to encourage railway staff to beautify the stations and grow vegetables. The gardens were, and are still, beautifully maintained and have won awards in the Carnival of Flowers competition over many years.
As we walked across the railway lines to the station there was an ominous clap of thunder from the other side of the hill. This walk around the station and gardens was going to have to be a quick!
This is a special place to go for a picnic with friends and family. There are different areas to explore. Steven walked up to the old structure up on the hill above the station. This building played an integral role in community as a dance hall constructed in 1907 and formed an important centre for social activities. People would come down the mountain range to enjoy the entertainment here.
Our stay was cut short with another clap of thunder and the unmistakeable sound of rapidly approaching rain saw us making a dash for the car and a promise to come back here again.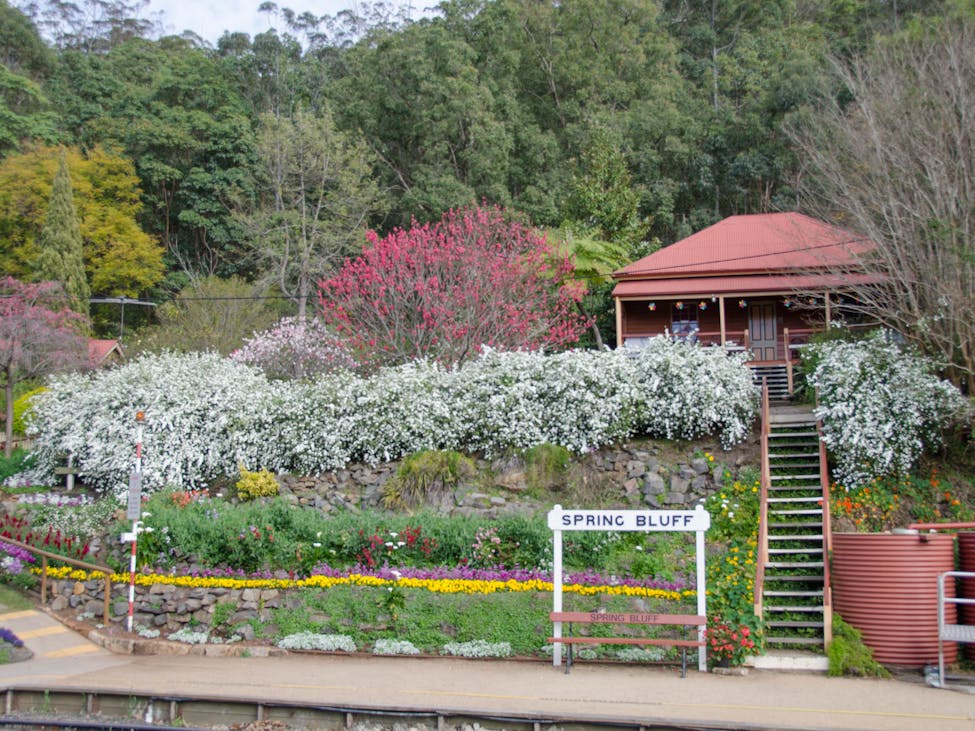 This is a great picnic ground so bring your lunch, cricket bat or football and spend some time enjoying this lovely place.