We split this ride over two days. On day one we both ride the trail North from Auburn to Leasingham and return. The following Day Steven rode South from the old Barinia Railway Siding North of Clair back to Leasingham.
The Riesling Rail Trail is one of the best known South Australian Rail Trails. It is a high quality cycling trail with packed gravel surface, bridges where needed and is easy to ride. The Rail Trail passes through the Clair Valley one of Australia's premiere wine regions and is dotted with amazing wineries, food stops and beautiful rolling vineyards as a constant backdrop.
We departed from Auburn with Trish on the e-bike for the uphill ride to Leasingham. Our first stop was the large information board next to the old Auburn Station. The trail also has a number of small information boards along the way which provide great excuse to stop for a break and read about the local history, flora and fauna.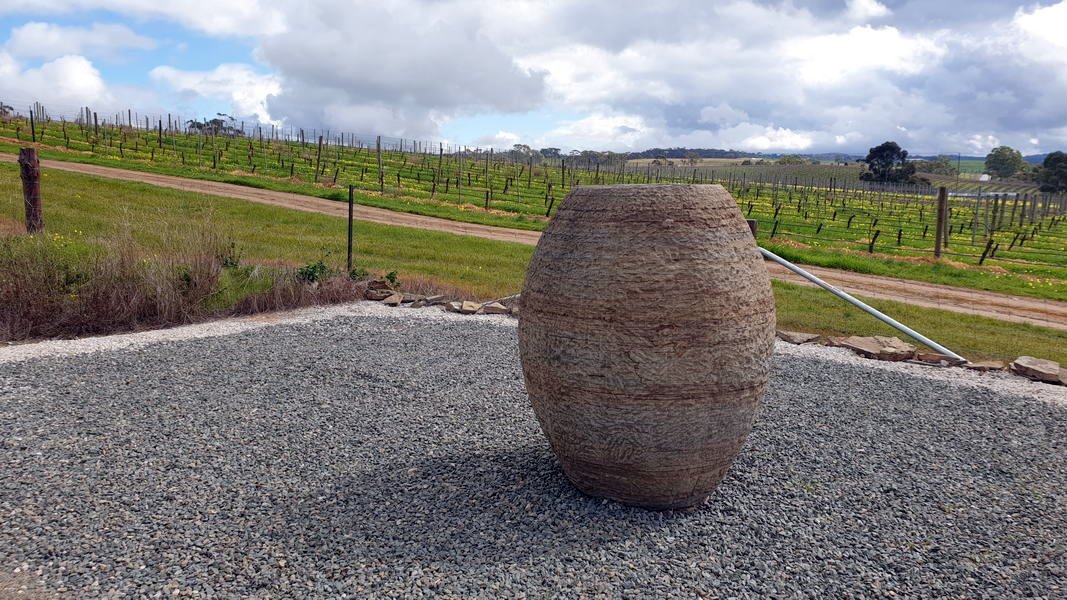 We were soon out of the township of Auburn and part way up one of the longer hills when we came across a stone barrel sculpture and rest area. I am riding Trish's old non powered bike and was quietly happy when Trish stopped for a while as it can be hard work keeping up with an e-bike going uphill.
Meller's Quarry, located east of Horrocks Highway, can be seen from the Interpretive sign. Stone from this quarry was used in many significant Adelaide buildings. A striking artwork here called 'Gathering', is carved from this stone The bluestone barrels created by a local stonemason and were created to represent the containers to transport local produce both past and present.
For lunch and wine tasting we turned off the track and headed into Leasingham which is about 750 metres down Williams road.
Trish was pleased to find that the Little Red Grape Café had a gluten free options. The Lamb Shank Pie was great!
Just around the corner is Claymore Wines. They have an extensive range of wines with free tasting and a handy tree to lock up the bikes for a while.
The dark clouds were rolling in so it was time for a speedy ride back downhill to our camp in Auburn just in time before the rain arrived
Below is an interactive map of this ride:
The Riesling Rail Trail GPX file, KML file and Brochure can be downloaded by clicking the buttons below
The KML file For Google Earth and Maps Me can be downloaded by clicking Here
Day Two – The Riesling Rail Trail – Barinia Railway Siding to Leasingham