Broken River is located within pristine Eungella National Park a high-altitude haven that protects pristine rainforests and a stretch of Broken River that's renowned as the best place in Queensland to spot platypus in the wild.
We drove from out camp at Miriam, across the Pioneer river and followed the Pioneer Valley and climbed up the mountain range to the Eungella township. Eungella itself is a tiny town with a school and one shop. From here we took the Eungella Dam road towards Broken River.
Our first stop was just after the small township of Eungella at the Eungella Skywalk. Just a short 400m or so walk through the forest with numerous fruits and berries to lookouts and views through the trees over the Pioneer Valley. Both Peases Lookout and Sky Window offer spectacular views of the Pioneer Valley.
Trish getting hung up over the huge vines
Broken River is an excellent place to enjoy bush walks within Australia's largest stretch of continuous sub-tropical rainforest.
There is a platypus viewing deck is near Broken River's picnic grounds, we took a stroll along the easy Rainforest Discovery Trail just in case a platypus was out through the day, and continued on to Wishing Pool (1.7km).
We crept along the riverbank and waited quietly but it was the early afternoon so lots of turtles but the Platypus were still asleep. Unfortunately no sightings for us.
Platypus viewing is best done in the late afternoon or early morning. Look for air bubbles and ripples in the water to watch the platypus quickly surface. Stay still and quiet to improve your chances of seeing one.
We backtracked and followed the river upstream and walked both the Granite Bend loop track and the the rain forest discovery loop track. This track starts at the far end of the Carpark at the Broken River picnic area, 5 km past Eungella
This pleasant walk passes through forest next to the river and returns through tall groves of livistona palms.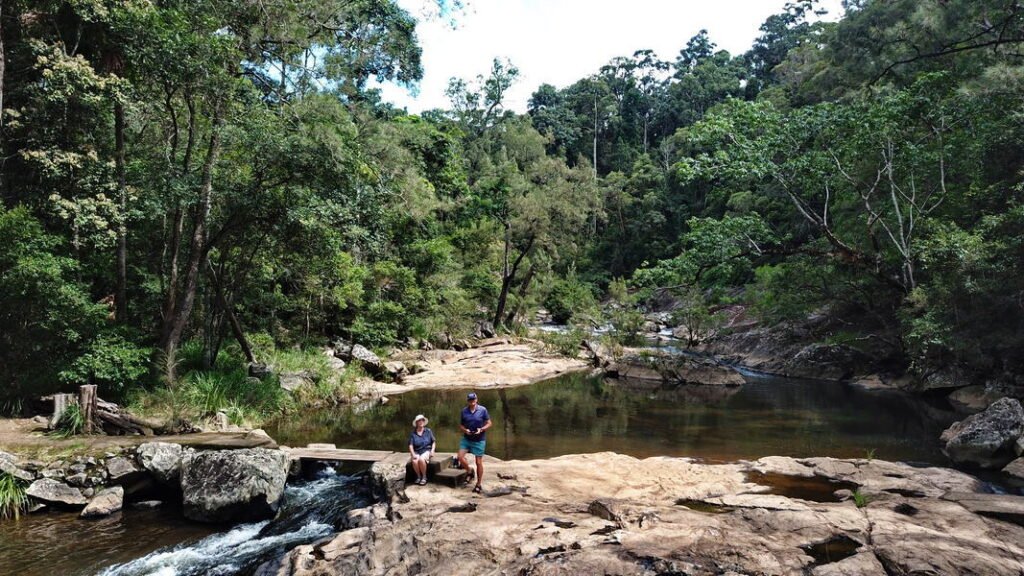 We took a break at a Granite Bend in Broken River and watched the water rushing over rocks.
Time to return to Eungella Township via Peases Lookout for views from the other side of Pioneer Valley. Then on to Eungella Chalet Restaurant for afternoon tea and relax enjoying the magnificent views over the valley below.