The highlights of this 13 km walk include the Nepean River, Knapsack Viaduct and the old Lapstone Zig Zag Railway. The Zig Zag Railway walk is actually only 2 km long. This is part of my training for the JLF Trek 80km in 2 days for bowl cancer prevention. Click HERE to find out more or offer support.
This walk is also known as the Glenbrook Railway Heritage walk. The walk can be commenced at either end. The John Whitton Memorial Place is at the northern end of the trail, which is located on the original Great Western Highway. I decided to walk from Glenmore Park and across the still flooded Nepean River, up to Lapstone Railway Station then North under the M4 Motorway and start the Lapstone zig zag rail trail from the Lapstone end.
As soon as you start the steep uphill track from the river to Lapstone station the sounds of suburbia gives way to the pinging of bell birds (bell miner Manorina melanophrys).
Overgrown entrance to the path from the Nepean River up to Lapstone Train Station
Headed North through the streets of Lapstone and then under the M4 Motorway to the start of the The Zig Zag Rail Trail.
The zig zag was built in 1867 as part of the line from Penrith to Weatherboard (Now Wentworth Falls). It was the first of its kind for the state of New South Wales and was the world-first Zig Zag constructed on any main-line railway.
The three tiered system allowed trains to negotiate the steep ascent. The trail follows the line of the old track, cuttings and culverts and passed the long abandoned platform of Lucasville station. Soon after the trail descends on a series of steps down to the Knapsack Viaduct.
The Knapsack Viaduct is an amazing sandstone arch viaduct, designed by John Whitton and built by William Watkins. Its purpose was to carry the Main Western railway line across Knapsack Gully. It also formed part of the Zig Zag, which climbed the eastern escarpment from Emu Plains to today's Glenbrook.
Once you reach the bridge, you'll find steps which will take you down to the bottom of the gully. The beauty of the block sandstone viaduct with piers reaching 38 metres high can best be appreciated from the deep sandstone gully.
The trail leads from the Knapsack Viaduct and on a sealed path to John Whitton Memorial Place. The John Whitton memorial celebrates the engineer in charge of the construction of the Blue Mountains line and many other early railways.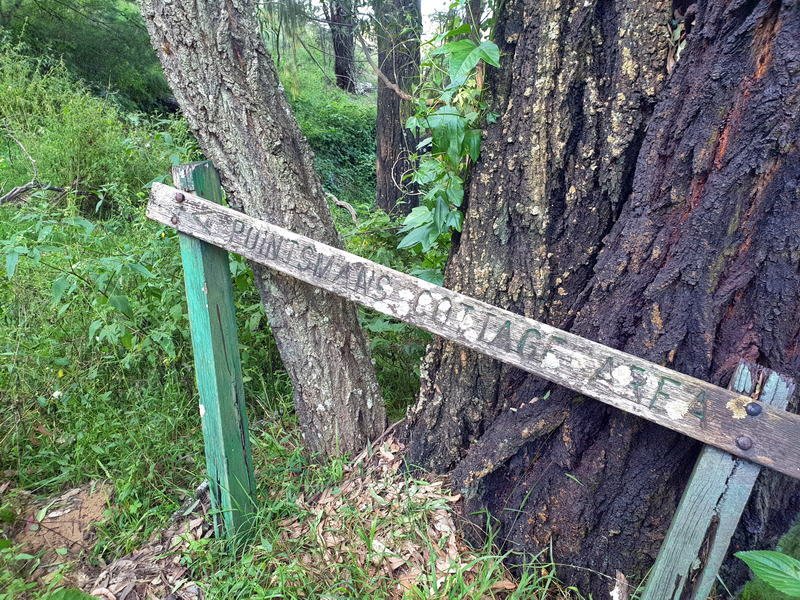 The old Glenbrook tunnel is now closed however there is a walk to the entrance. Something for next time. just enough time before last light for me to walk 3 km down the old Western Highway (which is now just a suburban street) to Emu Planes where Trish collected me for the short drive back to the motorhome.
Detailed Lapstone Zig Zag Walk trail guide and map can be found Here